Welcome to the 2017 Member Programs Fundraiser!
This fundraiser will be used to fund the patch, coin, and certificate awards that are given out to members through the different Member Programs the detachment has. These include Trooper of the Month, the Meditations Trooper Tracking, and Blood Member. All proceeds of the fundraiser will be used towards the production and shipping costs of the fundraiser patch rewards and the membership program rewards within the detachment. This fundraiser is open to anyone.
Deadline
The Fundraiser will run from 7/15/2017 to 8/15/2017. The patch rewards will be ordered then and will take approximately 1 month to arrive to the donators.
Rewards
Rewards will include special forum titles, forum icons, and a physical patch specially designed for the fundraiser and assisted with by one of our own members, Arif Iqbal (SL-27787). The patch reward for all 3 tiers is below, and will be printed to show the high level of detail in the holocrons.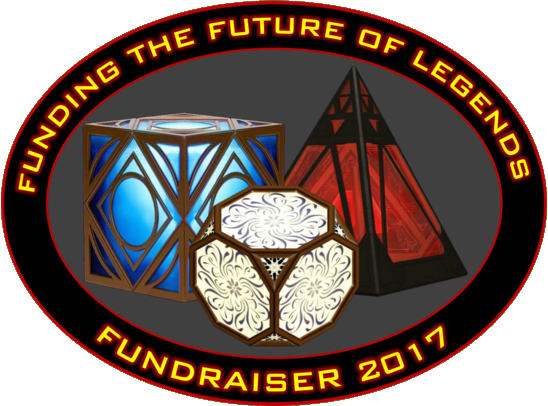 You are able to choose which tier you want based on the forum title and icon you want to have displayed. The rewards within each tier are exactly the same, otherwise. The choices you have for forum titles and forum badges are as such:
Tier 1
Forum Title- Jen'jidai
Forum Badge-

Tier 2
Forum Title- Jen'ari
Forum Badge-

Tier 3
Forum Title- Sith'ari
Forum Badge-

The Titles and Badges will show up on your profile as seen below: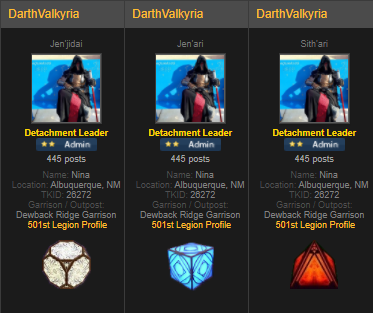 Raffle
In addition to the aforementioned rewards, 501st members get an extra bonus reward (sorry, nonmembers, merchandise rules!). For every $10 donated, you will get one raffle ticket added to a random drawing to win a rare Flagship Eclipse Detachment version 1 coin. The drawing will be held the day after the Fundraiser closes and the winner will be notified by email.
Donations
The donation amounts will be broken down as such:
$5 gets a forum title and a forum badge
$10 gets a forum title, a forum badge, and 1 patch
$20 gets a forum title, a forum badge, and 2 patches
$30 gets a forum title, a forum badge, and 3 patches
How to Donate and What We Need
You can send PayPal donations Friends and Family to MemberProgramFundraiser@gmail.com with the following in the notes:
1. Real name and TFE forum name
2. Email address for contact
3. Donation amount and Tier that you are choosing
4. Address for patches
5. TKID and 501st member link (you can find yours by putting your TKID in here http://www.501st.com...searchform.php)if you want to be eligible for the TFE Coin raffle
Thank you in advance for helping us provide rewards to our members for their dedication and passion towards the detachment and their communities!